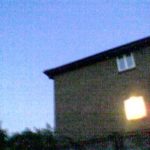 Summer in London has arrived. It's 30+ at the moment and I have spent the day digging the garden and enjoying being outside (the thermometer is in the garden shed and it was baking in there). I've said before that my favourite season is autumn but a life where I can sit outside – in the warm – at 10pm would be quite appealing. You can't argue that the sun puts you in a better mood.
Last night as I sat watching the planes in the gradually darkening sky I started to think about where all those people were heading on the trips. Were they, perhaps, heading to meet friends or for new holiday experiences? Or were they returning home? I'm not sure what it meant but I started to think of the vast size of the planet and how little I have seen of it.
And therein lies a problem. I love London and being at home. I have thoroughly enjoyed a lazy afternoon in the sunshine in the garden. But then I'd love to be off somewhere new and exciting too. Luckily, that's why I'm travelling next Friday for three quick days in Spain.
On this day…