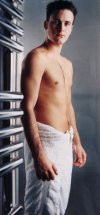 Really, I should know better. The other day I spoke of the Man of the Moment project for the first time in a long time and the only request I have ever had to enter a male into Musak's Man of the Moment project is to include Gary Lucy. Sadly, I haven't got round to that yet (despite the fact he has been Musak's calendar boy of 2004) but, I noticed yesterday was Gary's birthday (I think he was 23) and so I dedicate today's entry to the star of Hollyoaks, Footballers' Wives and, recently, the ITV drama, She's Gone.
Related from Listen To Musak's Archives:
Perhaps I will make Gary Lucy Man of the Moment one day.
On this day…