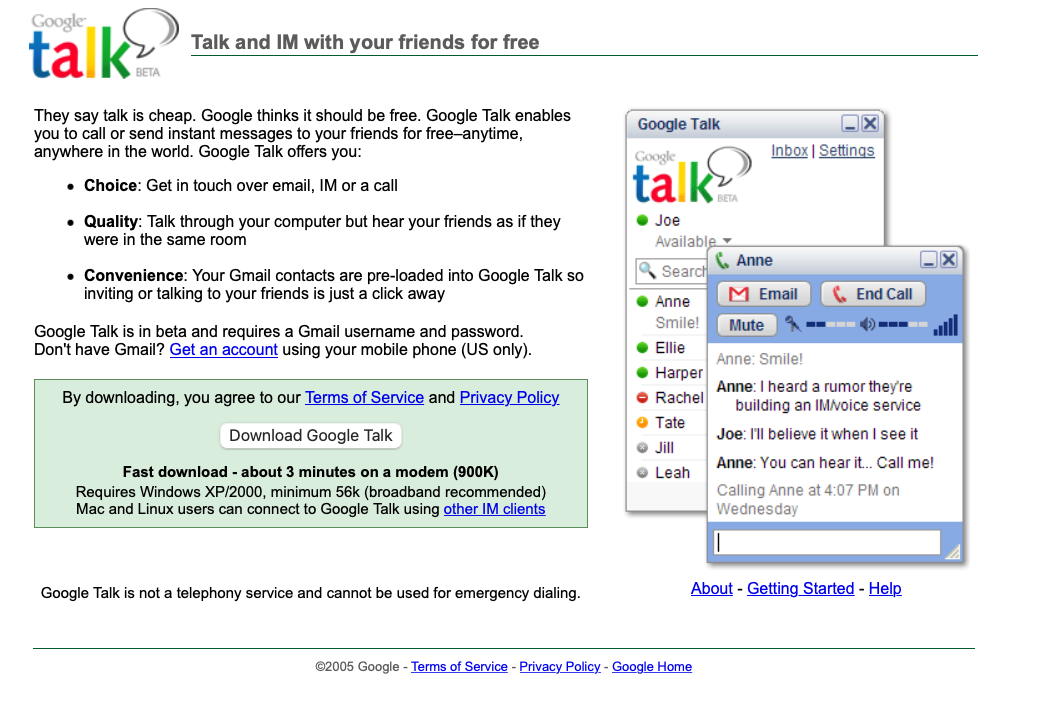 Well, they've finally done it and Google Talk is a nice, clean interface. I downloaded it this morning and was impressed by file size, speed of installation and general Google-cleanness of the the interface. This is what we have come to expect. However, apart from a couple of people who I know will try this – who am I going to talk to? I have a sinking feeling that they are too late to this party which is not a great thing to think about Google at all.
The world was waiting for a Google IM client but the world hoped it would speak to other clients and not just be a nice standards complaint tool. I already have friends on all of the major IM clients and I simply don't talk to them all because I don't install all the right clients. I do, occasionally, use Trillian to speak to everybody but that's not very often. I sit with my Yahoo Messenger because that's the client most of my colleagues are on and they are the people I need to talk to most. I'd love to migrate them to this nice Google interface but I don't think they will.
So, come on Yahoo support the standards that Google is running with then we can all choose the client we prefer not limit who we talk to. I wonder how long it will be before that happens?
UPDATE 28 Aug: I should turn comments on for this one, shouldn't I?
UPDATE 30 Aug: Still only three people I know are on Google Talk. C'mon guys – it's a lovely clean interface and a breeze to download.
On this day…