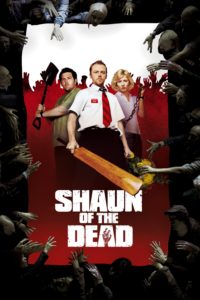 OK, so I spent this period watching movies I was not expecting to like and I liked most of them. I found at least one subtitled film that I thought was superb and managed to find a Jim Carrey role that I thought he was pretty good in. So, I thought my luck must be up and I wouldn't like Shaun of the Dead because, frankly, I dislike the whole zombie movie concept.
The problem is that this isn't a typical zombie movie and it's truly excellent. It's one of the best films I've seen for ages. Simon Pegg plays Shaun who is a lit of a loser who comes into his own as London gets over taken by the recently deceased who come back to life. Cricket bats to the head seem to be the way to fight off these zombies and where better to put up the fight but from your local pub? It's amusing, well-written and there are some great performances (not only from Pegg but also Kate Ashfield, Nick Frost, Lucy Davis and Penelope Wilton). The attention to detail makes for some wonderful moments: as TV channels are scanned for news on the zombie invasion appearances by Krishnan Guru-Murthy, Carol Barnes, Rob Butler, Vernon Kay and a brilliant Jeremy Thompson make the film very rooted in Britain.
I am not sure how well is translates to other countries but if you live in the UK – and most importantly if you live near London – check the streets and the faces of those walking towards you for they may just be the living dead.
On this day…