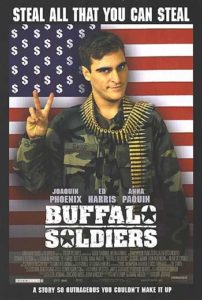 Buffalo Soldiers was an attempt at a satirical take on the state of the US Army. Of course it was all made before the terrorist attacks of September 2001 and the war in Iraq of 2003 and has spent some time on the shelf until it was decided to release it.
Ray Elwood (Joaquin Phoenix) is the clerk for a supply unit of the US Army and is running every black-market racket he can until a new sergeant picks up the scent of the corruption and starts to root it out.
I found it a little disappointing as the story seemed narrow and predictable. Phoenix is good and brooding but not convincingly the type to go up against gang-land Germany in the days before the Berlin-wall fell. Ed Harris as Col. Berman, Scott Glenn as Sgt. Robert E. Lee are notable performances and Anna Paquin as the love-interest was well-played.
You do seem to side with Elwood (who is certainly not the good guy here) over the honesty of the others – which maybe as the writers intended – but you can't help feeling that you wish this movie had more depth. Comparisons to M*A*S*H may be spot-on.
On this day…