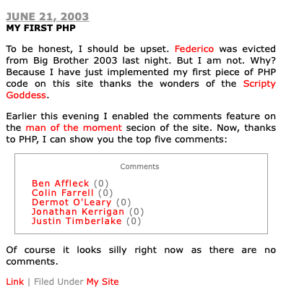 To be honest, I should be upset. Federico was evicted from Big Brother 2003 last night. But I am not. Why? Because I have just implemented my first piece of PHP code on this site thanks the wonders of the Scripty Goddess.
Earlier this evening I enabled the comments feature on the man of the moment section of the site. Now, thanks to PHP, I can show you the top five comments:
Of course it looks silly right now as there are no comments.
On this day…